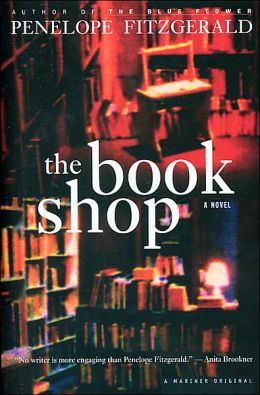 Comedies are supposed to have happy endings, right? So perhaps Penelope Fitzgerald's
The Bookshop
isn't actually the comic novel it appears to be for most of its 123 pages.
Her wonderful 1979 novel, set in 1959, tells of Florence Green, a widow who invests her inheritance in a small bookstore in Hardborough, an English seaside town that doesn't have one. Her enterprise is opposed almost immediately by Mrs. Gamart, one of Hardborough's leading citizens, who claims she has long intended to open an arts center in the old building Florence purchases for her bookshop.
Florence knows little about running a business, and her only assistant is a 10-year-old girl named Christine, yet the new store prospers, at least at first. Vladimir Nabokov's novel
Lolita
has just been published, and Florence takes a chance by acquiring a large number of copies for display in her store, and it sells well among the curious citizens of Hardborough.
Yet Mrs. Gamart persists in her efforts to close the bookshop. These efforts, such as persuading an artist to try to get Florence to display his work in her little store and getting her lawyer to send Florence strange threatening letters, provide much of novel's comedy. There is also a poltergeist that knocks around the building periodically.
Yet, in time, Mrs. Gamart comes to represent pure evil. Most villains at least have some reason for their villainy. Criminals robs banks because that is where the money is. Most murderers are greedy or jealous or afraid or just crazy. Mrs. Gamart seems to have no reason for opposing Florence's bookshop, however. She could have purchased the building long before Florence did. There are other vacant buildings available. The structure may be too small for a decent arts center anyway. In the end, she would rather see the building demolished than have it house a bookshop. Sadly, such purposeless evil, sometimes even seeming at first to be comic, is more common in our world than one might think. Many of us ordinary folks may even be guilty of it from time to time.
Fitzgerald, who died in 2000, had an amazing gift for writing relatively small sentences that make a reader sit up and take notice. Here are a few that caught my attention in
The Bookshop
:
"Culture is for amateurs. ... Shakespeare was a professional."
"Gentleness is not kindness."
"Understanding makes the mind lazy."
"Old age is not the same thing as historical interest. Otherwise we should both of us be more interesting than we are."