Among the many charms of Alexander McCall Smith's No. 1 Ladies' Detective Agency novels are the names Smith gives to the businesses in Botswana. Many of these find their ways into his titles,
The No. 1 Ladies Detective Agency
being but one of them. Among others are
The Kalahari Typing School for Men
,
The Miracle at Speedy Motors
and, most recently,
The Minor Adjustment Beauty Salon
.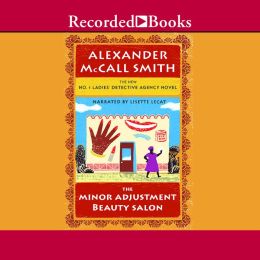 When Precious Ramotswe gets a "free" facial at the newly opened Minor Adjustment Beauty Salon, she soon realizes the proprietor expects a favor in return. Someone is already trying to destroy the business by spreading terrible false rumors. How does one go about tracking down the source of a rumor, Mma Ramotswe wonders.
Another case proves even more challenging. A lawyer wants Mma Ramotswe to discover whether a nephew about to inherit his uncle's estate is really who he claims to be.
This being an Alexander McCall Smith mystery, you know the subplots will often overpower the supposedly main plots, and that is the case in this 14th book in the series, as well. This time, Mma Ramotswe's husband, Mr. J.L.B. Matekoni, attempts to become a modern husband and Grace Makutsi, her long-time assistant (no, better make that
associate
), gives birth to a baby boy and then must put up with her husband's overpowering aunt moving in and attempting to take over, all in the name of tradition.
I have listened to, rather than actually read, most of the books in this series, and I did that again with
The Minor Adjustment Beauty Salon
. Native South African Lisette Lecat has been narrating the series from the beginning, and as always she does a perfect job with this installment. With Lecat reading Smith's prose, what's not to like?