Most of my travel is bookstore-based.
Ann Patchett, My Bookstore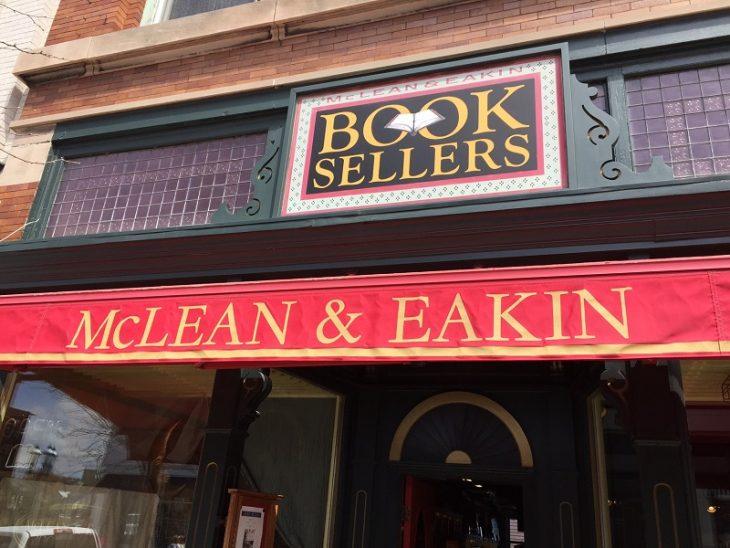 Doesn't that sound like a wonderful idea? We've heard of baseball fans who plan summer vacations so they can watch as many games in as many major league ballparks as possible. So why shouldn't a book lover plan a trip in order to hit as many quality, independent bookstores as possible?
Ann Patchett has a good excuse for her bookstore-based travel. She goes on book tours. "I am a novelist, and when I am not at home writing a book I tend to be sitting at a small table in the back of a bookstore trying to sell it." Although she owns a bookstore of her own in Nashville, the store she writes about is McLean & Eakin Booksellers in Petoskey, Mich. "Like the town of Petoskey itself, a very good bookstore feels a little nostalgic, a place out of time," she writes. I know what she means. I have visited both Petoskey and McLean & Eakin Booksellers the past two Junes. It is where I bought the copy of
Driving Mr. Yog
i I wrote about here a few weeks ago. Both times entering the town and entering the bookstore I had the sensation of stepping back in time. In his youth Ernest Hemingway spent his summers in and around Petoskey, so there's some literary history in the area, in addition to a beautiful, thriving downtown and a spacious and attractive bookstore in the center of it.
My Bookstore
, in which many authors write about favorite bookstores, provides plenty of other ideas for planning one's bookstore tour of America. I would want to include Strand Book Store in New York City, Carmichael's Bookstore in Louisville, Longfellow Books in Portland, Maine, That Bookstore in Blytheville in Blytheville, Ark., Fiction Addiction in Greenville, S.C.,The Regulator Bookshop in Durham, N.C., and dozens of others mentioned in the book. It would be a totally impractical trip. Where, for example, would I put all the books I would be likely to buy in my travels, not just in my car but in my home? Still a man can dream.
Back in the early 1990s my wife went to Portland, Ore., via Amtrak. We spent nearly a week there and had a wonderful time, including multiple visits to Powell's huge downtown bookstore. Because of an Amtrak strike, we got an extra day in Portland, and that's when we called my wife's cousin, who lives in Oregon, and spent that extra day with her and her daughter. Over the recent holidays I heard this relative share her version of our visit . She said we went to Portland expressly to shop at Powell's. That's not how I remember it, but I didn't correct her, perhaps because I only wish it were true.