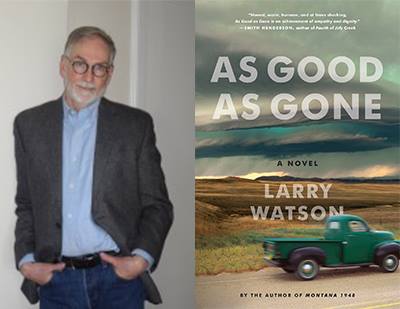 Willie Nelson sings, "Don't let your babies grow up to be cowboys." Larry Watson's novel
As Good as Gone
carries the same message, as well as another, "Don't let cowboys be baby-sitters."
Before taking his wife to Missoula for an operation, Bill Sidey asks his father, Calvin, to move into their basement and keep an eye on his grandchildren, 17-year-old Ann and 11-year-old Will. Calvin spent years working as a cowboy after the death of his wife, Bill's mother, whom he had met in France during World War I. Now he lives as a recluse in a trailer, an ex-cowboy who reads books in Latin. The year is 1963, and Watson beautifully captures that time in history.
What Bill and Marjorie, his wife, don't know as they leave for the distant hospital is that Ann and Will are each in trouble. Ann is being stalked by an aggressive ex-boyfriend. Will hangs out with a couple of boys he doesn't like but doesn't know how to avoid. They want him to help them find a way for them to see his sister naked. Without actually understanding these problems, Calvin takes action, but his way of solving problems involves tough words, fists, knives and, as a last resort, guns.
Meanwhile he becomes involved with Beverly, a neighbor woman with a grown son who lives with her and takes advantage of her. This son also has an eye for lovely Ann, which may help explain why Beverly wasn't the first choice to watch the Sidey children. She realizes Calvin is trouble, but he also makes her feel like a desirable woman for the first time in many years.
Watson develops his plot in such a way that it could turn in many different directions, and it does, surprising the reader at every turn.
As Good as Gone
is a Clint Eastwood movie waiting to happen, but before it does, be sure to read this incredible novel.