It's not every day one gets the chance to see, hear and even speak with any of dozens of authors, but that has been my good fortune two Saturdays in a row. On Nov. 5 I attended the Buckeye Book Fair in Wooster, Ohio, where numerous writers with Ohio connections sat in large rooms to sign books, greet fans and attempt to recruit new readers. A week later I was at the Tampa Bay Times Festival of Reading at the University of South Florida in St. Petersburg, where writers, most of them with Florida connections, lectured at eight different locations across the campus.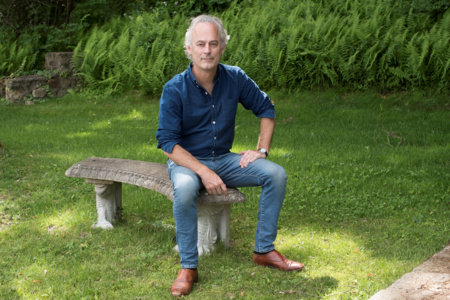 I passed up such notables as Michael Connelly, Brad Meltzer, Joyce Maynard, Robert Olen Butler, Michael Koryta, Ace Atkins and Tim Dorsey, opting instead to listen to novelists Caroline Leavitt and Amor Towles. Years ago I read and reviewed Leavitt's novel,
Into Thin Air
, but I have yet to read either of the novels by Towles. I think I may give
A Gentleman in Moscow
a try, however, for it sounds intriguing. Here is a bit of what these two writers had to say.
"We have come to expect more accuracy from our novelists than our presidential candidates," Towles said. He may have been joking, but the timely comment seemed right on just a few days after two blatant liars each received millions of votes. Towles said any variation from historical fact in his novels draws comment from his readers, yet historical fact is not his objective. "I'm not a historical novelist," he said. "I'm a novelist." He tells stories that may be set in a particular time and place, but these stories are intended only as fiction, not reality.
Towles said his practice in writing both
Rules of Civility
and
A Gentleman in Moscow
was to write the first draft while doing doing virtually no research. Then he did whatever research was necessary to add detail and correct any blatant errors. Other writers may devote months or even years to research before even starting to write.
Caroline Leavitt
As for Caroline Leavitt, she spoke about how an early novel, the one I read, was successful and how she thought she was on her way. Then novel after novel failed, not necessarily because the books were bad but because publishers went out of business and editors left for other jobs. Finally she signed a contract with Algonquin and has had a string of best-sellers, including her latest,
Cruel Beautiful World.
Leavitt's talk was inspirational, along the lines of, "You can do anything you want to do as long as you never give up." She seemed a little disappointed there were not more frustrated writers there for her to inspire.
Regarding her latest book, the most interesting thing she said, something I had never heard before, was that Charles Manson, yes that Charles Manson, co-wrote one of the songs on a Beach Boys album. Now
she
is a writer who does research.