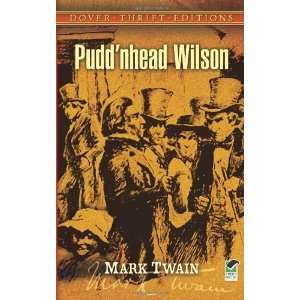 Mark Twain's 1894 novel
Pudd'nhead Wilson
could be described as many things: a comedy, a tragedy, a courtroom drama, a scientific murder mystery, a satirical commentary on slavery, etc. It's not a great book, but it's one that is still worth reading more than a century later, even if the use of fingerprints to solve crimes, so revolutionary at the time the novel was written, seems old hat now. The story contains few surprises for modern readers.
Yet there is something about the novel that never seems to grow stale: the triumph of the underdog. We all love underdogs, whether in sports or in stories. The appeal of television detectives like Monk and Columbo lies, to a great extent, in the fact that they seem like such unlikely heroes. The killers always make a mistake when they underestimate them. In the same way, when we watch reruns of
The Andy Griffith Show
, some of our favorite episodes are those in which, whether because of Andy's intervention or dumb luck, hapless Barney Fife comes out the hero. Twain has this sort of thing going for him in
Pudd'nhead Wilson
.
When Wilson comes to this Mississippi River town, he promptly wins the nickname Pudd'nhead when he makes a witticism that his hearers do not understand as wit. It doesn't help that he collects the fingerprints of townspeople, a foolish hobby in the eyes of others, or that he has never practiced law, even though he was trained it. For most of the story, Wilson is just a minor character, an underdog waiting in the wings.
The main plot has to do with Roxy, a slave woman who is mostly white. Her baby son is even more white than she is and, in fact, looks just like her master's infant son. So, to save her son from slavery, she switches the two babies. Years later after the murder of a prominent man, Pudd'nhead is called on to defend the accused. Of course, Wilson's interest in fingerprinting proves to be the key to discovering what really happened that night, as well as to exposing Roxy's long-ago deception.
Much about this novel, including Twain's use of language, will disturb today's readers, but the triumph of the underdog will, as ever, bring satisfaction.