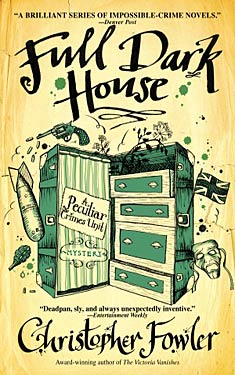 Christopher Fowler's 2003 mystery novel
Full Dark House
, the first in his series of books featuring the unconventional detectives Arthur Bryant and John May, begins with Bryant's death in an explosion. Killing off one of the heroes in the first chapter of the first book hardly seems like the way to start a series, but in
Full Dark House
, as in presumably the novels that follow, the unusual becomes the expected.
May, an old man as story opens, is determined to discover who killed his partner, and he suspects it has something to do with their very first case together, some 60 years previously, when the two very young men are put in charge of the Peculiar Crimes Unit of Scotland Yard. They would seem to be the intended scapegoats for crimes too difficult for more experienced police officers to solve.
The 1940 case involves an apparent phantom of the opera, a strange creature who picks off members of the cast of a new London musical production and then disappears, seemingly through walls. These murders continue even after Bryant and May are on the scene, virtually witnesses to the crimes they are supposed to be solving.
Every few chapters we return to the 21st century and May's investigation of his eccentric partner's death. How these very peculiar crimes, including a dancers who disappears from a locked room, are solved and everything set right again makes for amusing and suspenseful reading, and I am looking forward to reading some other Bryant and May adventures.